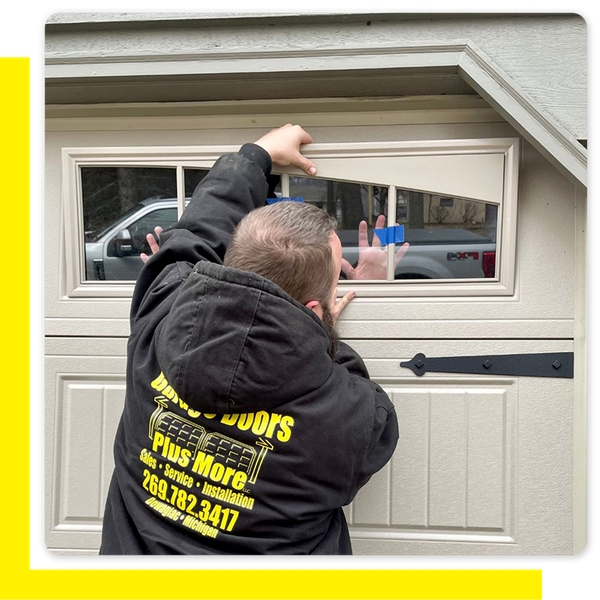 Contact Us for Same Day Garage Door Repair in Southwest MI & Northwest IN!
We service garage door repair in Southwest MI & Northwest IN with high attention to detail and focus on customer satisfaction. If you've experienced any issues with your garage door, we're ready to jump in right away to help. There can be many different ways that garage door problems happen, but we're confident that we can diagnose the issue and come to a solution in one appointment.
Searching for garage door repairs near you, you'll realize your options! Garage Doors Plus More has the best team on the market and is prepared to offer amazing service for your home or businesses in the Dowagiac area. Let our expert garage door repairmen serve your home today!
Our Garage Door Repair Services Near You
Garage Door Cable Replacement
Garage Door Roller Replacement
Restoring Out of Track Garage Door
Garage Door Keypad and Remote Service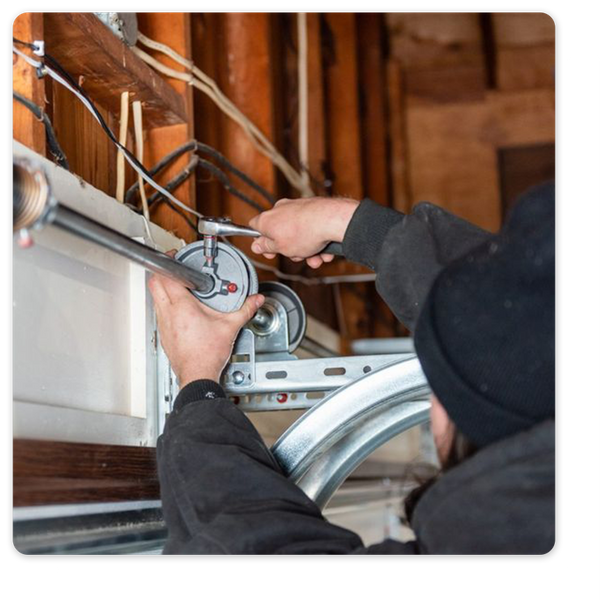 Garage Door Spring Replacement
Garage door springs are an essential part of the mechanics behind a garage door. If the spring is broken, it will prevent your door from opening. There are two different types of springs: torsion and extension, with both springs having a typical lifespan of 10k cycles. Due to wear and tear over time, your garage door spring will snap, usually eliciting a loud noise. If you hear a gunshot-like sound in your garage, you'll know that it's time to schedule a garage door spring replacement. No need to worry, we'll handle spring replacement for you with new high cycle replacement springs we keep on hand!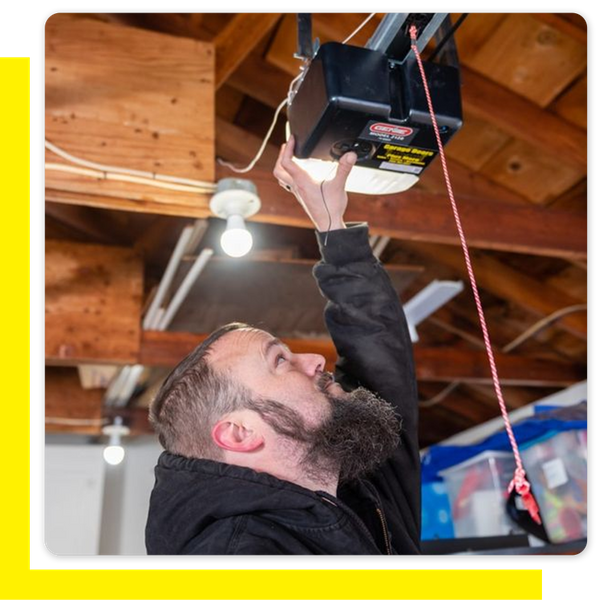 Garage Door Opener Repair
Your garage door opener refers to the motor that powers the opening and closing of the door. Normally, it is located on the ceiling of your garage or off to the side. We can service all types of openers including chain drive, belt drive, direct drive, jackshaft, and wall mount.
If you have a broken garage door opener, the first thing you should do is check if the light on your garage door opener is on, to rule out any electricity issues. Try resetting your system as well. If your garage door is not working still, try opening it manually. If you can open it, your springs and cables are fine and it's time to schedule garage door opener repair. Contact your favorite local garage door repair company at Garage Doors Plus More for any garage door opener repair or installation needs you have!
Signs Your Garage Door Needs Repairs
If you're considering whether or not it's time to call our garage door repair company, we have some common signs you can keep an eye out for to know if your garage door needs to be repaired. If your garage door is making noises that you haven't heard before, it's a good sign that something is wrong with it. It could be a sign that you need simple garage door services, such as lubrication or something loose that should be tightened. If your garage door struggles to open or close, or is harder to open and close than normal, it's time to call our garage door repair crew at Garage Doors Plus More! You should also keep an eye out for a sagging garage door. This can be a sign of worn-out springs, and our professionals can easily find a solution to get your garage door working great again. The final sign that your garage door needs repairs is if the door is off track. A garage door that is off track won't be able to function properly if left as is, but our team can correct this issue!
Of course, there are many other signs to look out for when it comes to ensuring your garage door is working as it should, but these are the most common repairs we see in Southwest MI & Northwest IN. To have our team come and inspect your garage door and assess if it will need repairs, contact us today!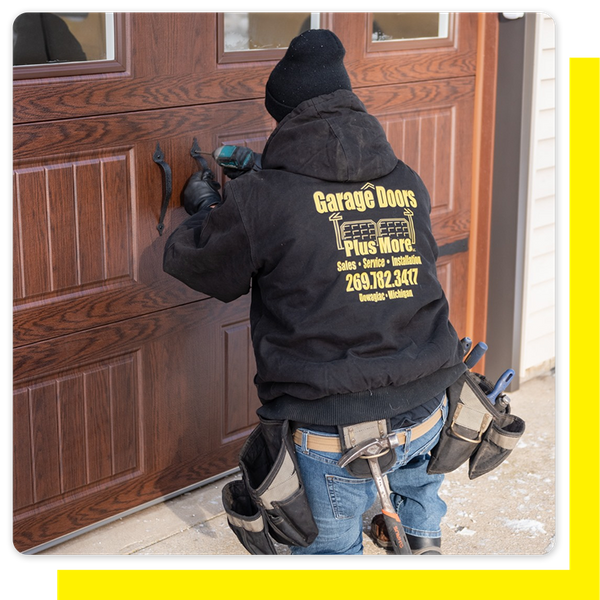 Why You Shouldn't Put Off Garage Door Repairs
If you're experiencing issues with your garage door, it's important to schedule repair services as soon as possible. A broken garage door is a potential safety hazard to you and your family. There are risks that your garage door may close unexpectedly, and if your garage door is the main entry and exit point for your home, you don't want it to be inaccessible due to issues with the garage door mechanics. Delaying your garage door repairs can lead to a more costly situation in the long run. Rather than waiting until your garage door has broken down completely and needs to be replaced, contact a garage door repair company and schedule your repair.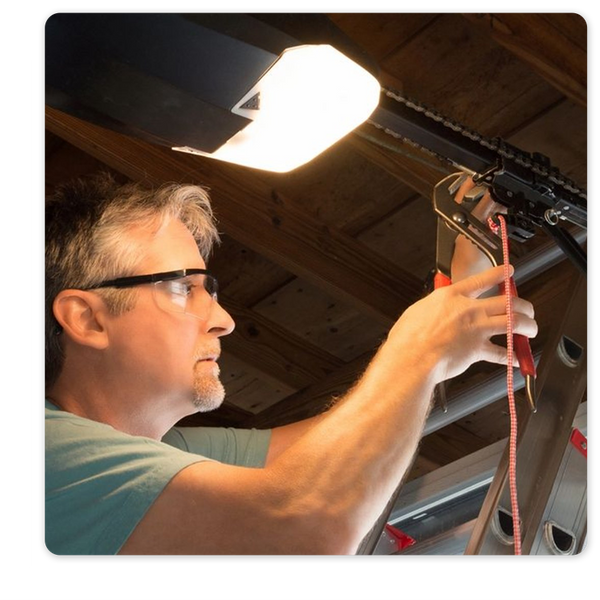 How Much Does Garage Door Repair Cost?
The cost of your garage door services will ultimately depend on the extent of the issue at hand and the repair necessary to rectify it. At Garage Doors Plus More, we pride ourselves on providing affordable garage door services from our team of professionals for the Southwest MI & Northwest IN areas. We are always happy to provide you with a quote for our repair services before we begin working to resolve the issue, and we'll work with you to find a solution that fits your budget. Reach out to our team for a quote!
Why Choose Garage Doors Plus More
When it comes to garage door services, you want to be sure you choose the right company to repair your garage door. Here at Garage Doors Plus More, we're dedicated to providing you with service that exceeds your expectations each and every time. We prioritize customer satisfaction, garage door safety, using the latest equipment and techniques, and much more to keep our spot as the trusted garage door repair company in the area.
Our business is locally owned and operated, and we began as a family business! For us, our distinction as a family-owned business means that we treat each of our customers as family. We take your garage door repairs seriously, as we want your garage door to be functioning properly and safely again as soon as possible.
Contact Us For Garage Repair Near You!
Next time you need some garage door repairs done, make sure to contact us. We're committed to providing the best customer service possible, and will tackle any garage repair you need. We can answer questions, suggest products, and come anytime you need us. We are always there for our customers and will go above and beyond with our garage door service in Southwest MI & Northwest IN. Our garage door repairmen are ready to serve you today!